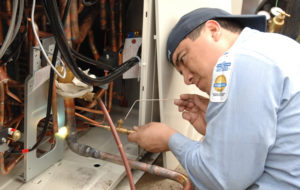 Because HVAC repairs are unavoidable, the key to fewer and less expensive repairs lies in the timing. When your system is regularly scheduled for cleaning and preventive maintenance, it will serve you for such a long time. Instead of figuring it out yourself through DIY enthusiasm, it is important you hire an experienced and professional HVAC contractor or technician to handle the different elements of your system.
Why You Need Regular Preventive Maintenance
During summer particularly in hot areas such as Florida, the temperature inside your home shoots and becomes unbearable. This causes your AC system to work extra hard to put the temperature under control. With time, the efficiency and effectiveness of the AC takes a beating and hence the need to schedule regular AC maintenance and repair works.
According to field observations and research, regular preventive maintenance services minimize occurrences where your system falters or prematurely breaks down. In the long run, this saves you a fortune in repairs and replacements. Your utility expenses month on month will also come down drastically because your unit will be consuming less energy and giving more output.
When to Schedule Your AC Service
During winter, your HVAC system works extremely hard to keep you and your family warm. During summer, the opposite happens and the system works tirelessly again to cool your home and make it comfortable for you, your family, and other occupants. To ensure you reap the best of the results in both seasons, you should schedule your AC service in between winter and summer. Experts recommend that the maintenance should be done around spring when the outside temperatures are nicer.
A typical HVAC inspection includes:
• Cleaning and replacement of filters
• Clearing of debris from the inside of the compressor unit
• Unblocking grills and ductwork
• Tightening of loose screws
Experienced technicians come with maintenance checklists which makes it easier for them to do the tune ups leaving no area unattended. A good maintenance job will ensure your AC is in shape to fight the summer heat without breaking down.
One thing you must realize is that the soundness of your HVAC system has an impact not only on your comfort, but also on your health and finances. Breathing cleaner air for individuals with asthma and allergies is priceless.
If you are hiring a HVAC contractor for the first time, you need to do a bit of research to ensure the one you are picking is insured, licensed, and bonded to undertake the task at hand. Beware of fly by night companies that disappear even before the job is satisfactorily done.