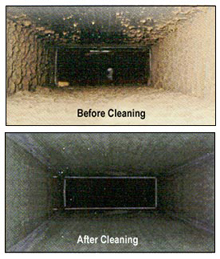 According to Environment Protection Agency (EPA), indoor air pollution is mostly 5 times worse compared to outdoor air. This presents a great health risk to you and your family. In addition, dirty air ducts lower the efficiency of your HVAC significantly. Dust, dirt, pollen, mold, pet dander and spores recirculate through your air ducts every time you turn on your air conditioning unit. When you combine this with moisture in your house, you will have an ideal breeding ground for bacteria, fungi and germs. In fact, studies have shown that contaminated air ducts cause diseases such as legionnaires and salmonella strep. This makes it very important to ensure that you have your ductwork cleaned by professionals regularly or at least once per year.
Coral Gables Air Conditioning has many years in the HVAC industry and as such has extensive experience when it comes to indoor air quality control. Our air duct cleaning specialists are thoroughly trained in the removal of all harmful contaminants including dirt, pollen, dust and mold that may be circulating through your ductwork. We offer comprehensive air duct cleaning services to both commercial and residential properties. We are committed to providing the best services to all our clients; nothing at all is more important to us than your 100% satisfaction.
Signs that Your Air Ducts Require Cleaning
• Unusual odors when your air conditioning system is turned on
• Dusting frequently than usual
• Noticeable dust buildup on vent grills
• Visible black or streaking marks around the vent grills
• You or your family members start suffering from respiratory issues or allergies within the confines of your house
These signs indicate to you as the homeowner of the need to have experts come clean your ductwork. Coral Gables Air Conditioning will thoroughly clean your system to ensure it is free of dust, pet dander, dirt and other allergens that can cause harm to your family as well as reduce the efficiency of your HVAC unit.
NATE and NADCA Certified
Coral Gables Air Conditioning is certified by the National Air Duct Cleaners Association to undertake air duct cleaning services. What this means is that the cleaning services we offer are excellent and will restore the integrity and efficiency of your ductwork. The role of NADCA is to protect homeowners against rogue companies who deliver sub-standard services or use cleaning materials that can be harmful.
Our technicians are also NATE certified ensuring that every team member we send to your home possesses extensive knowledge and experience on how HVAC system works. All our technicians also undergo in-house rigorous training that guarantees that your ductwork is in good hands.
At Coral Cables Air Conditioning, we are your One-Stop partner when it comes to indoor air quality. We offer you comprehensive solution at very competitive rates. Our customer service is unmatched in the industry and when you reach to us even in the middle of the night, we will attend to you swiftly and professionally.
For a free quotation or more information about our air duct cleaning, call today at 305-728-2046 and we will be there to attend to you!